If you're reading this page, chances are you've been told that you need an SR 22 insurance. These forms can be required by the state for several reasons typically associated with high-risk drivers, like those who have been convicted of driving under the influence (DUI) or driving without insurance coverage. At Select Insurance Group, high-risk auto insurance is our specialty. Our experienced team can help you find affordable SR 22 insurance plans and stay compliant with the requirements of your license as you work to get back on the road.
What Is an SR 22 Insurance?
SR 22 is not a type of insurance policy — it's simply a form that states that your insurance meets the minimum coverage amounts required by law. It proves that you've met state requirements and is often easily attainable after you've started a satisfactory policy. An SR 22 may also be called a Certificate of Financial Responsibility (CFR) and is often ordered by a court. The state can also order it in certain situations.
Some states call for a similar form called an FR-44. We can also help with these forms, which are used in Florida and Virginia.
All About SR-22s
If an SR 22 is in your future, you probably have several questions. Below are a few common ones.
Who Needs an SR-22?
The types of drivers who need SR-22s are typically those who have had high-risk histories, such as:
DUIs or driving while intoxicated (DWIs).
At-fault accidents.
Driving without insurance coverage.
Driving with a suspended license.
Multiple small incidents or violations within a short time frame.
If an SR 22 is needed, you'll typically be told by a court or in a letter from the state. The events that call for an SR 22 will vary from state to state.
How Long Do You Need an SR-22?
SR-22s typically need to show continuous coverage for three years, but some states have longer requirements. You'll need to ensure that your policy does not lapse during this time. If it does, the insurance company is required to notify the state, which is likely to suspend your license. After the three years or your state's applicable time frame, the SR 22 requirement is generally lifted and you can remove it from your policy.
How Much Does SR 22 Insurance Cost?
Having an SR 22 filed typically doesn't cost excessive fees, but the violation or violations that caused it can increase your premiums. This increase can vary widely depending on the incident, and your rates may be reduced after the SR 22 requirement is gone.
How Do You Get an SR-22?
Getting an SR 22 is typically as easy as telling your insurance provider that you need one when you buy the policy — or, if you already have a policy, as soon as you know you need SR 22 insurance. They'll add it to your policy and file it with the state. Filing is mostly done electronically, so you can often get it done within the day. Not all insurance companies file SR-22s, though, so you'll need to make sure yours does.
Can I Get an SR 22 if I Don't Own a Car?
Yes, you can get an SR 22 if you don't own a car. Many people need one for coverage while driving cars they don't own, such as a rental or borrowed car. These are called non-owner SR-22s. If you have a suspended license and want to reinstate it, you may need a non-owner SR 22 to get it back.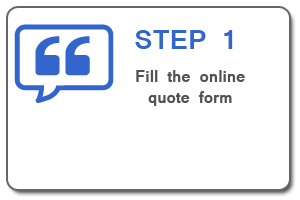 Get a Quote NOW That You Can Trust
Get a free online personalized quote and learn more about coverages, money-saving discounts and more.
Contact Our Licensed Insurance Agents
Our licensed SR 22 insurance agents are here to answer all your questions and take your application over the phone. Call us at (855) 438-7353.
Why Choose Select Insurance Group?
SR-22s and SR 22 insurance can be tricky topics. Select Insurance Group specializes in high-risk auto insurance and aims to find affordable coverage for everyone regardless of their situation. You've got a lot on your mind — let us make insurance simple.
We understand the unique situations of drivers who need SR-22s and offer affordable solutions. Whether you have multiple incidents on your driving record, poor credit or DUIs, we have knowledgeable agents ready to help you find and make sense of SR 22 forms and policies. Our partnerships with top-rated insurance carriers allow us to find cheap SR 22 insurance rates and offer low down payments to fit your budget.
We serve clients across the contiguous United States with the exception of the District of Columbia. We have extensive experience in the SR 22 insurance quotes and forms of each state we cover. Wherever you are in those states, our team can help you find affordable policies with SR-22s. We can also help with other types of assistance for high-risk drivers such as relief programs, reinstatement of licenses and discounted ignition interlock systems.
Get an SR 22 Insurance Quote Today
Regardless of what's on your driving record, the experienced team at Select Insurance Group can help you find affordable SR 22 insurance. To request a quote today, just reach out to us online or give us a call at (855) 438-7353.
What happens if I let my SR 22 Insurance policy lapse?
Can I still get SR 22 Insurance if I have multiple DUI convictions?
Can I cancel my SR 22 Insurance policy once I am no longer required to have it?